---
Welcome!
FLYER SALE!
Another flyer sale is in progress, third time around, all flyers as show in the "Special When Lit" button in the navigation bar to your left are just $2 EACH!
For nearly 42 years, we have been proudly serving the pinball community. With thousands of items for Bally, Williams, Stern, Sega, Gottlieb and Capcom pinballs, we have what you need. You'll find parts, supplies, manuals, schematics, flyers, coin-op books, and more! And to make a return visit more effective we've added a
icon to show you what has arrived on our most recent orders!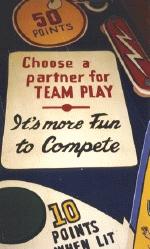 Put our extensive pinball and gameroom knowledge to work for you. Whether you're an operator looking to get a pin back on route quickly, a collector looking to finish that perfect restoration, a pinball enthusiast just starting out or a long time hobbiest, we'll give you fast, friendly, and unparalleled service.
Use the navigation bar on the left to move around the site. And you can always click on our logo to bring you back home. Only a sample of our inventory is shown online so if you don't see what you're looking for or if you're not quite sure, please send us a note.
And remember - when it's pinball, it's For Amusement Only.
Thanks for stopping by!
Dave Mercer
(Don't forget to check back often to see what's new and Special When Lit).
---

Site content last updated: November 16th, 2022
No content or images may be used in any other form without express consent of For Amusement Only Inc. All logos trademarked by their respective owners. Specifications of game room equipment offered for sale subject to change.
"Pinball Floor" graphics from the "FOR AMUSEMENT ONLY" showroom floor formerly in Berkeley, California. © 1993 by Dan Fontes. Used with permission.
Web site design by Sneezer, Momo, Eta and friends, all rights reserved.